Rio de Janeiro, is the second major city of Brazil, behind São Paulo. The city is capital of the state of Rio de Janeiro. It was the capital of Brazil for almost two centuries—from 1763 to 1822 while it was a Portuguese colony and from 1822 to 1960 as an independent nation. It was the de facto capital of the Portuguese Empire from 1808 to 1821. Commonly known as just Rio, the city is also nicknamed A Cidade Maravilhosa — "The Marvelous City."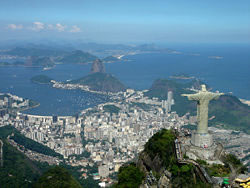 It is famous for its spectacular natural setting, its Carnival celebrations, samba and other music, hotel-lined tourist beaches, such as Copacabana and Ipanema, paved with decorated black and cream swirl pattern mosaics known locally as "pedra portuguesa". Some of the most famous local landmarks in addition to the beaches include the giant statue of Jesus, known as Christ the Redeemer ('Cristo Redentor') atop Corcovado mountain, which has recently been named one of the New Seven Wonders of the World; Sugarloaf mountain (Pão de Açúcar) with its cable car; the Sambódromo, a giant permanent parade stand used during Carnival; and Maracanã stadium, one of the world's largest football stadiums. Rio also boasts the two world's largest forests inside an urban area. The first is the forest in Parque Estadual da Pedra Branca, or White Stone State Park. The second, almost connected to the first, is the famous Floresta da Tijuca, or "Tijuca Forest".
The Galeão – Antônio Carlos Jobim International Airport connects Rio de Janeiro with many Brazilian cities and also operates several international flights.